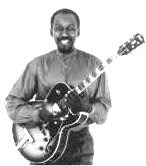 Michael Boothman hails from a very artistic family and has been in music all his life. At age 14, he founded the musical combo "Rockefellas" and sured a couple of hit teen singles and an eponymous album for R.C.A. labels.
As he matured, and with the evolution of jazz, he formed a succession of more adventurous bands, including "The family tree" and the "Mike Boothman Band", which birthed Kysofusion.
His versatile talent includes song-writer, producer, bass player and guitarist. Though he plays the piano and the cuatro, the guitar is his main love.
Michael Boothman has earned a unique place for himself on his musical journey. One of the many highlights of his career includes an extensive thirty-city tour of Europe as a Bass guitarist with internationally acclaimed artiste Taj Mahal.
He has worked with Roberta Flack, Ralph McDonald, The Platters, Vivian Reed, Calypsonians "Designer", "Lord Nelson" and Carole Addison ( the Caribbean Soul Queen). He opened major acts for Kool and the Gang, the Commodores, Natalie Cole, Roberta Flack, Third World, the Pointer Sisters and Groover Washington Jr.
His musical Odyssey has taken him into the realm of theatre where he became involved with the Trinidad Theatre Workshop, a Drama company founded by noble prize winner Derek Walcott, and served as a musical director for
"The Charlatan" under Walcott's direction.
His innovation and professionalism have thrilled many in the Caribbean and on the wider international stage.
Michael Boothman is also a top artist, like his brothers David and Roger and has held several exhibitions of his art. One of the last being an exhibition last year October together with David and Roger.
Contact:
Michael Boothman
5, First Avenue,
Cascade,
Port of Spain
Trinidad and Tobago, West Indies
Tel: 868- 623-0430