| | |
| --- | --- |
| Desserts and Cakes | Cookbook Index |
Ingredients:
1 lb Guava pulp (no seeds )
1 lb Granulated sugar
1 stick cinnamon spice, about 1 inch long
butter for greasing dish Method:
1) Make sure Guavas are firm and not damaged. Peel and remove seeds
2) Pass guava flesh through a fine sieve, all the little seeds must be removed
3) Put guava pulp, sugar and spice in a heavy skillet ( use pot with a heavy bottom) and cook on high until mixture starts to " jump", stirring once in a while
4) Reduce heat and cook mixture , stirring all the time with an up and over motion until mixture is thick and separates easily from the bottom and sides of the pot, leaving the pot "clean". Test by putting a drop of the mixture on a saucer. It should form a ball that can be rolled
around )
5) Pour Guava cheese in a greased fireproof glass dish and let it cool.
6) When cool, cut into small squares
Preheat oven to 210-220F
Crust
Ingredients:
250 gr flour
1 tsp. baking powder
60-80 gr sugar ( 1/4 cup)
1 teasp vanilla
skin of one lemon - grated ( or a little lemon extract )
salt - a pinch
1 egg
80-100 grammes butter

Ingredients for Pie
3 tablsps custard powder and 1 tablesp. cornstarch
1/2 pint of water ( 2 cups)
2 oz margarine ( 2 tablesps)
3-4 oz sugar ( 1/2 cup)
2 egg yolks
2 lemons or large limes, squeezed for juice
Ingredients for Meringue
2 egg whites
2 oz sugar
a little vanilla essence or lime juice to get rid of the "fresh" taste
Method:
1) Mix all ingredients, line a springform or pie pan and bake for 10 mins, take out of oven, then increase oven temp. to 275 degrees
Method:
1) Prepare Pie crust
2) Prepare filling:
a) Blend cornstarch and custard powder with cold water and put in a sauce pan
b) Cook gently until thickened, take off fire and add margarine, sugar, egg yolks and finely grated rinds
c) Add lemon ( or lime) juice and pour into prepared pie crust
d) whisk egg whites stiffly with a little vanilla essence or lemon juice and fold in nearly all the sugar, pile on top of the lemon filling, make peaks with back of tablespoon and sprinkle with remaining sugar
e) Bake at 275 degrees. When meringue feels firm to the touch, take out of oven
( about 30 mins or more).

Preheat oven to 350 F. Grease and flour 13X9 inch baking pan.
Ingredients
2 cups all-purpose flour,
1 tsp baking powder,
1tsp baking soda,
1tsp salt,
1tsp ground cinnamon,
1/4 tsp ground nutmeg,
1 1/4 cups sugar,
3/4 cup vegetable oil (don't use corn oil),
3 eggs,
1tsp vanilla extract,
1 3/4 cups shredded carrots,
1 cup chopped nuts.
Optional: 1 (8-ounce) can crushed pineapple undrained and/ or 1 cup NESTLE TOLL HOUSE Semi-sweet Chocolate Mini Morsels. Method
1) Combine flour, baking powder, baking soda, salt and spices in small bowl.
2) In large mixer bowl, beat sugar, oil, eggs and vanilla until well blended.
3) Gradually beat in flour mixture. Stir in carrots, pineapple with juice, 1 cup nuts and mini morsels.
4) Pour into cake pan. Bake 45 to 50 minutes until toothpick inserted comes out clean. Cool completely before frosting.
In small mixer bowl, combine 4 ounces softened cream cheese and 2 TBSPS softened butter or margarine. Add 3 cups sifted powdered sugar; mix thoroughly. Stir in 1 tbsp. orange juice and 1 tbsp. lemon juice. Add additional orange juice if necessary until frosting is of spreading consistency.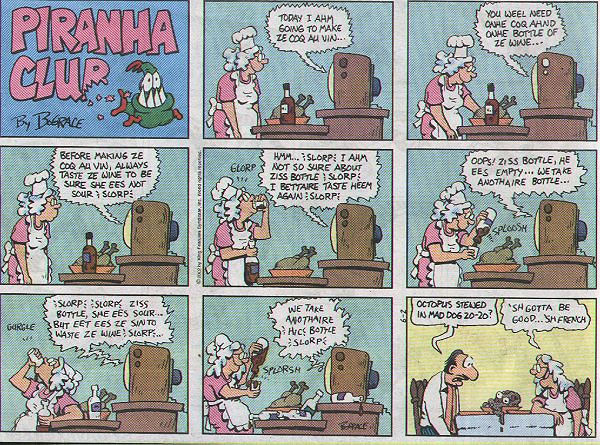 Ingredients
2 Quarts Trinidad Rum
1 cup butter
4 tbsp brown sugar
2 large eggs
1 cup dried fruit
4 cups enriched Flour
3 tsp baking powder
1 oz lemon juice
1/4 lb chopped nuts
2 dashes Angostura bitters
NB. Before you start, sample the Rum to check for quality. Good, isn't it? ! Now go ahead.
Method
1) Select a large mixing bowl, measuring cups, etc.

2) Check the Rum again, it must be just right.
3) To make sure Rum has stabilised, pour one level cup and drink. Repeat.
4) With one selectric mixer bleat one sup of butter in a large fluffy bowl.
5) Add one teaspoon of thugar and bleat again.
6) Meanwhile, to make sure Rum maintains perfection, pry another cup.
(Open the second quart if necessary).
7) Add 2 arge leggs, 1 cup dlief fluit, and bleat till high. If fluit gets stuck in the bleaters, pry loose with a screwdriver.
8) Sample Rum again, check for tonscisticity.
9) Netx, shift 3 sploons pepper ( or salt .... really doesn't matter).
10) Slample Rum again.
11) Shift ½ pint lemon juice, fold chipped blutter and strained nots. Add 4 tbst blown thugar (or whatever ethnic colour). Wix mell. Grease oven and turn can pan to 350 degrease. Plour de hole mess into boven and cake.
12) Check Rhum aglain.
13) Slet thimer flor 3600 slecons, an flow to bed.
(Thormally bums out crisk and black)
Auntie Jean's Cassava Pone
Ingredients:
4 lbs Cassava root
1 dry coconut
2 1/2 cups brown sugar
cinnamon powder to taste
1 teasp. vanilla essence
grated nutmet to taste
2 1/2 cups water
a little spice powder
1/4 stick margarine
a small piece pumpkin
Method :
1) grate cassava on fine sieve very finely
2) grate coconut very finely
3) grate pumpkin very finely
4) add sugar, cinnamon, essence, nutmeg, spice powder, margarine, water and blend
5) grease baking dish and bake at 350 degrees for one hour or until a knife stuck in the centre comes out clean
N.B.You can add maraschino cherries and/or raisins to the dough

Marsha's Cassava Pone
Ingredients:
2 cups grated cassava
1 cup grated coconut, fresh or dried, unsweetened
1 cup granulated sugar
1 teaspoon ground cinnamon
4 tablespoon butter, melted
1/2 cup evaporated milk
1 teaspoon vanilla extract
Method:
1) In a large bowl combine all ingredients.
2) Transfer to a greased 8 inch square baking dish and bake in a 350 degree F oven until browned and firm to the touch (about 45 mins.)
3) Cut into small squares and serve
Ingredients:
1 lb raisins
1 lb currants
1 lb prunes
1 lb maraschino cherries
1/4 lb almonds, chopped
Rum - at least 1 bottle
1 doz eggs
1 lb sugar (granulated)
1/4 lb. mixed peel
2 x 5ml. vanilla essence
1 lb flour
1 lb butter
4 x 5g. baking powder
CARAMEL COLOURING
1/4 lb brown sugar
1" stick cinnamon
½ cup boiling water
3 cloves
FROSTING
3 egg whites
½ cup water
1 lb granulated sugar
1/2 x 5g, cream of tartar
Method
The day before cake is to be made, mince currants, raisins, pitted prunes, add finely cut mixed peel and the chopped maraschino cherries. Pour the rum over this mixture, then soak the mixture for at least 24 hours, stirring occasionally.
CARAMEL COLOURING
1) Put brown sugar in a heavy bottomed pan over heat and, while stirring, let the sugar liquefy.Cook until syrup is dark golden brown, do not let the syrup burn.
2) Take pan off the heat and add 1/4 cup boiling water, stirring briskly.
3) Return to heat until sugar and water blends easily. Take off and cool.
4) Bottle and store until ready for use.
Preparation:
On the day the cake is to be made, grease and line buttered baking tins with buttered greaseproof paper or butter pudding moulds.
Sift dry ingredients together four times, break eggs and put into earthenware mixing bowl.
NB: Accurate measurements are essential
Method:
1) Gradually cream butter, and sugar and continue creaming until sugar grains are dissolved and mixture is light and fluffy.
2) Stir in soaked fruit, the finely chopped nuts, the caramel colouring, and blend evenly.
3) Add a small amount at a time to the creamed butter and sugar and repeat, beating well after each addition, until all has been used up. Set aside.
4) Whip eggs until thick, and fold into fruit mixture
5) Add sifted dry ingredients, a small amount at a time, repeat until all has been used up and stir only until well blended. Do not over- mix.
Pile lightly into prepared tins and bake in a very slow oven, 200 degr. for 1 hour, reduce to 175 degr. and continue baking until cake shrinks from sides of pan. To test, insert a skewer in centre of cake. Leave in tins to cool, for 24 hours. Cakes may be wrapped in rum soaked cloth and stored to ripen.
Icing
Put sugar and water which has been stirred together to cook, stirring only until sugar grains are dissolved. Add cream of tartar, cook until syrup spins a thread; when syrup shows signs of getting heavy, start beating egg whites which must be beaten until stiff and can stand in peaks, pour hot syrup in a continuous stream over beaten egg whites and beat until thick mixture loses its sheen. Ice cake if desired, and decorate to suit occasion.

P.S.: It is desirable to line baking tins with brown paper and foil before lining with grease proof paper.

Ingredients:
1 lb flour
1/2 lb sugar
5gr. yeast
1/4 cup water
5g. granulated sugar
1 teasp vanilla essence
3g. mixed spice
10 g. baking powder
57g. butter
2 eggs
1/4 cup caramel colouring
Method:
1) Mix sugar into water and add the yeast
2) Leave to stand for 10 mins.until yeast rises in foam on top of the water.
3) Cream sugar, add sugar gradually, and keep creaming
4) Whip eggs, then fold into creamed butter and sugar
5) Mix caramel colouring into yeast with vanilla essence and add to the creamed butter mixture.
6) Add sifted dry ingredients. Blend in well.
7) Spoon into well buttered, shallow baking tin, about 2" deep. Put into preheated oven 350" for about 50-60 minutes or until a tester inserted in the middle comes out clean. (Do not open oven before 30 minutes).
8) Set on cake cooler and cut into squares for serving.
Bananas & Mango in Coconut Milk
Ingredients:
1 can coconut milk or 1 cup fresh coconut milk
1 half ripe banana, cut into large pieces
1 half ripe mango, seed removed, cut into pieces
1 tbsp. sugar
1 tsp. salt
nutmeg

Method:

Bring all ingredients to a boil, sprincle with a little nutmeg and serve warm.
Duckunoo (Payme)
Ingredients:
3 1/2 cups yellow cornmeal
1 1/2 cups dark brown sugar
1 teaspoon cinnamon
1/2 teaspoon allspice
1/4 teaspoon salt
1 1/2 cups coconut milk
2 teaspoons molasses
1 teaspoon vanilla extract
1/3 cup raisins
Method:
1)In a large bowl, combine cornmeal, brown sugar, cinnamon, allspice and salt.
2)In a medium bowl, combine coconut milk, molasses, vanilla extract, and raisins. Add coconut milk mixture to dry ingredients and stir well. Mixture should have the consistency of thick cookie dough.Stir in a few drops of water to thin if necessary.
3)Drop about 2 tablespoons of dough into cooking bag, twist bag closed and secure with a rubber band or piece of string.
Repeat with remaining dough.
4)Fill a large kettle half full of water and bring to a boil over high
heat.
5)Carefully drop cooking bags into boiling water and reduce heat to medium-high.
6)Cover, leaving cover slightly ajar to let steam escape.
7)Boil gently for 1 1/2 hours or until mixture is firm.
8)With a slotted spoon, remove bags from water.
9)Dry off bags and unwrap duckunoo. Serve warm or cold.
St Thomas " Vienna" Fruit cake
This recipe was brought to me by a friend who lives in St Thomas
Ingredients:
1/2 lb flour 9 plain )
1 teasp mixed spice
1/2 teasp cinnamon ( ground )
1/2 teasp grated nutmeg
1 teasp cocoa powder
6 oz butter
6 oz brown sugar
1 tablesp molasses
1 teasp orange rind, grated finely
1 tesp lemon rind, grated finely
4 eggs
1 1/2 lbs mixed dried fruit ( currants, sultanas and seedless raisins )
1/4 lb mixed peel, chopped
2 oz blanched almonds or shelled walnuts, chopped
2 oz chopped dates
2 oz chopped maraschino cherries
2 dessert spns milk,rum or brandy
Method
Preheat oven to 300degr F
1) Use either an 8 inch round pan or 7 inch square pan and brush inside with melted butter
2) Cut 2 layers of greaseproof papers and line pan with it, then brush more butter on inside of paper
3) Sift together: flour, spice, cinnamon, nutmeg and cocoa powder
4) Cream butter with sugar, molasses and lemon and orange peel
5)Beat in eggs, one at a time, adding tablespoons of the sifted flour mixture with each egg
6) Stir in all fruit, nuts, peel
7) Alternately fold in milk and flour mixture
8) Fill mixture into tin and take a large knife and smooth top
9) Bake in preheated oven for 4 to 4.5 hours ( test with knitting needle in centre of cake for readiness ). Take oven off
10) Stand cake in tin for 15 mins, then turn onto cooling rack
11) when completely cooled, punch holes into cake with knitting needle and soak cake with rum or brandy
12) Wrap into alu foil until ready to serve
This cake serves 20-30 portions
Mango Creme
Ingredients:
3 large, ripe mangoes
3 oranges
1 lemon or lime
2 tablesps honey
2 eggs
150 gr ground almonds
1 pk white gelatine ( 6 leaves or powder )
100 gr ( 1 cup ) whipping cream
8 maraschino cherries
1) Peel mangoes and cut the flesh of two mangoes into chunks
2) Extract juice from oranges and lemon/lime
3) Puree the mango chunks
4) Add slowly to the puree: the juice, honey egg yolks and almonds
5) prepare gelatine as directed on package
6) mix gelatine with puree thoroughly
7) Cool mixture in fridge until it is halfway set
8) Beat whipping cream and egg whites separately until stiff
Mix both gently with the mango creme
9) Devide creme into 8 glasses
10) Garnish with a cherry and a piece of mango slice